Remember to Bookmark This Site and return often to see the updates!
What  Is  Chair Caning?
The craft of chair seat weaving and chair caning in particular, has been practiced for centuries and is still a viable craft today, practiced all over the world.
Similar cane or "wicker" weaves date back as far as Egyptian times with artifacts such as a woven daybed discovered that once belonged to King Tutankhamen, (1325 B. C.).
The techniques and materials have not changed much in all the years and only a few common tools are necessary to repair chair seats, making chair caning a craft that nearly anyone can master.
What is this material called "Cane"?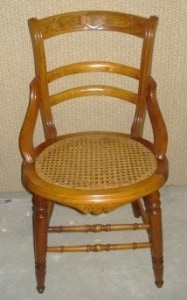 The chair cane used in seat weaving is the shiny, glossy skin or inner bark from the stem or trunk of the rattan palm, genus Calamus. There are hundreds of species, but only a few are suited for to produce the high quality needed for chair seat weaving.
Rattan palms grow primarily in the Far Eastern tropical areas of the world, such as Southeast Asia, including Sumatra and Malaysia, China, Singapore, and Hong Kong.
Calamus rattan is a single-stem climbing jungle vine that grows vertically for three or four feet, then jumps to an adjacent tree and begins to climb it.
The rattan can grow to great lengths up to as long as 600 feet, but the spans of 150-300 are more the norm. It has strong thorns which enable it to crawl through the jungle trees at will through the treetops.
The stalks are uniform in diameter, with those used for chair caning and wicker furniture ranging from 1/2″ to 1 1/2 " and remain extremely flexible. Making this species of rattan skin, or bark and the inner pith called "reed," desirable for basketmaking and wicker work as well as chair caning.
Commercial processing is done primarily in Singapore and Hong Kong, although there are also fine processing centers in Europe.
How is Chair Cane Used?
Chair cane (the outer skin or bark of the rattan palm) is used primarily in weaving antique and modern chair seats. However it's also used extensively as wrappings on rattan furniture and is sometimes used to weave entire sets of new or reproduction wicker furniture.
Watch the video below to see how to weave the most popular type of chair caned seat, hole-to-hole traditional hand caning .
You've probably seen these before or might even own some of the three main types of chair seat caning:
Hole-to-hole traditional hand caning or 7-Step Method of Hand Chair Caning , which is weaving individual strips through a series of drilled holes around the perimeter of the chair seat frame.
Spline, machine or cane webbing where a sheet of cane is inserted into a groove around the perimeter of the chair seat and held in place with glue and reed spline.
Porch cane or wide binding cane seats are woven around the seat dowels of chairs and rockers using very wide (1/4″) strips of cane forming a double layer of weaving.
How do you tell Chair Cane from Rattan Reed?
There are sharp thorns on the outer portion of the rattan palm pole that are removed before the actual processing of the skin or bark called "cane" takes place. After the thorns are removed, the naturally glossy skin or bark is sorted, graded and stripped into various widths by machine and packed in hanks and coils.
This cane material is then used for both hole-to-hole chair caning, over-the-rail caning and sheet woven or spline caning. And because of the natural glossy feature of the cane, it does not accept either a stain or paint well.
The inner pith of the rattan palm is porous called "reed" and comes in a variety of shapes and sizes, used for weaving wicker furniture and weaving baskets, primarily.
Reed is processed in to round, flat, flat-oval and oval-oval reed, and packaged into typical one pound coils. And since unlike the glossy cane skin, reed is porous and does accept both stain and paint very well, so is an excellent material for woven wicker furniture and basketry alike.
For more information regarding the differences between cane and reed, see Cathryn's article, What are Cane & Reed?
Stay tuned for more to come about Chair Caning…
Remember to Bookmark This Site and return often to see the updates!