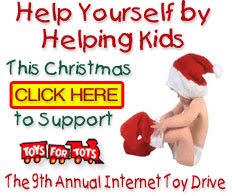 Help Yourself By Helping Children . . .
The 9th Annual Internet Toy Drive!!

 

We are proud to be a partner with the official U.S. Marines "Toys for Tots" program in The Ninth Annual Internet Toy Drive.

 
It's a sad fact that millions of children in the United States will NOT have a single gift to open on Christmas Day!

We aim to change that and make sure EVERY child has at least one present 'from Santa' under their tree.