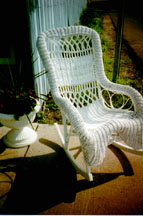 Reporter Jean McClelland writes about antiques for The Herald-Dispatch in West Virginia and wrote this article, "As relaxing reminder, wicker speaks of summertimes past," which appeared in the paper on May 31, 2009.
Thanks to Loxie Nance from West Virginia, who called to tell me that WickerWoman.com was mentioned in the local Sunday newspaper, in the article about wicker furniture which steered readers to my website for how-to care for wicker.
Thanks for the mention in your article on wicker Jean, that was very nice of you!