WEDNESDAY WICKER WISDOM–Wicker manufacturer's labels can be an invaluable tool in determining the time frame that an antique piece of wicker furniture was made. There were paper, celluloid, and metal labels, but sadly not too many of the paper labels still exist.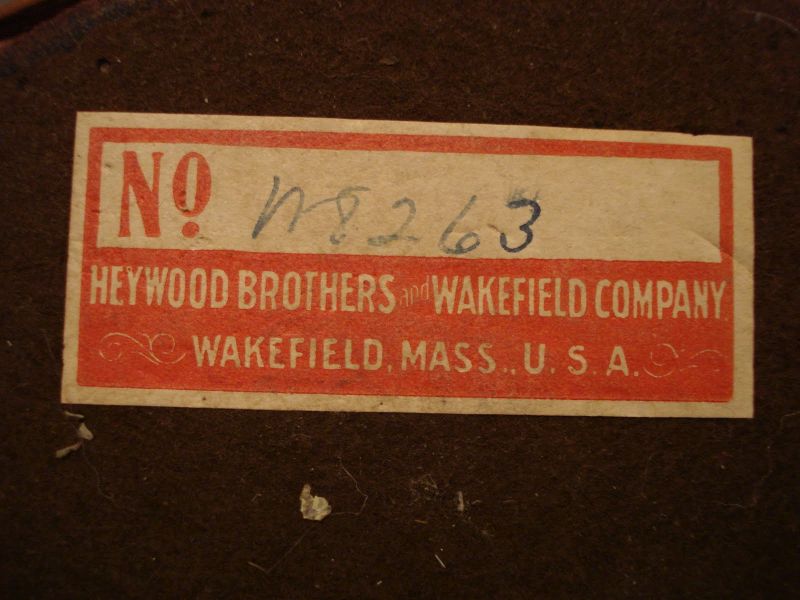 Not only can they tell you approximately when a piece was made, but frequently the city and state location of the manufacturing company was also on the label. So you can often tell when the piece was made judging by the location of the company.
To give you an idea of how to date by label for example, the most famous and long-standing pillar of the wicker furniture industry was the Heywood-Wakefield Company.
But did you know that the Heywood-Wakefield started out in the mid-1800s as the Wakefield Rattan Company (1855-1897) and the Heywood Brothers & Company (1868-1897)?
Then when they merged in 1897, the name changed to the Heywood Brothers & Wakefield Company (1897-1921).


By 1921, the name was shortened to Heywood-Wakefield Company and remained that way until the 1940s when the wicker furniture industry became obsolete and fell out of fashion with the buying public.
So, armed with this little bit of information about manufacturer's labels you should be able to determine the age of any Heywood-Wakefield antique wicker piece you run across!