Well, I'm off this morning to do a paid weaving demonstration in Virginia, MN (30 miles south) at a local department store (Herberger's) for their Senior Citizen's Day, the first Wednesday of the month.
I will be weaving on a hole-to-hole cane chair, making a paper fibre rush seat on a footstool, and creating my deer antler basket sculptures and onion and garlic baskets, during the two hour demo.
Hopefully, we'll get some pictures so I can post them here. Until later….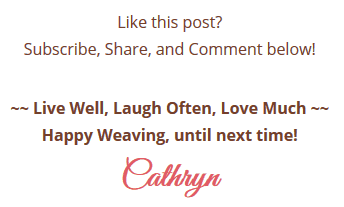 LIKE THIS POST? Subscribe to get updates!
Get access to all the weaving goodies!
Get on the Wicker Woman's Weavings list for valuable emails, blog post updates, events, hints & tips for your weaving delight!