Open Water Exhibition
A visual art celebration of spring recreation and
fishing opener in the northland
on the Iron Range area of Minnesota.
May 12—June 11, 2011
The First Stage Gallery, 514 Chestnut St., Virginia, MN
Gallery Hours: Thursday—Friday—Saturday 11am—3pm
Artist reception: Wednesday, May 11th, 6—7:30pm
Featured artists include: Jill Aubin, Philip Deloria, Debra Gunderson, Nancy Luloff, Nancy Miller, Casey Newberg, Heidi Mae Niska, Cathryn Peters, Larry Rude, Claire Taylor
Lyric Center for the Arts
The First Stage gallery and performance venue
510 – 514 Chestnut St.
P.O. Box 416
Virginia, MN 55792
218-741-5577
http://lyriccenterforthearts.blogspot.com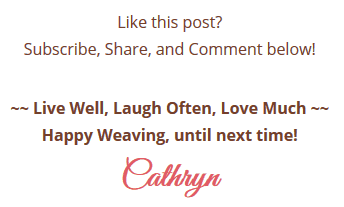 LIKE THIS POST? Subscribe to get updates!
Get access to all the weaving goodies!
Get on the Wicker Woman's Weavings list for valuable emails, blog post updates, events, hints & tips for your weaving delight!