Mary Kurh from North Carolina sent me the following message regarding the sale of her terrific basketweaving supplies —
Okay, folks, this is it. After almost twenty years of weaving, I'm hanging up my reed cutters and passing on my precious supplies. I have sorted, bundled by type and size, and packaged everything neatly (except for one bag of miscellaneous "stuff") in see-through plastic trash bags so a potential buyer can see what is inside.
I wish to sell everything for $500.00, or best offer ABOVE $500; believe me, there's more than that amount in handles alone! Everything has been stored in covered tight containers and is in excellent condition; I have purchased only high-quality materials. You may sell off what you do not wish to keep (and make a profit), but I will not sell items piecemeal. It's "all for one and one for all," as they say on e-Bay.
If you are local to the Raleigh, NC area, you may inspect the supplies by giving me a call at 919-847-5979. If you do not live in the area, feel free to e-mail me at [email protected] or call me for the full list of available supplies or have any other questions.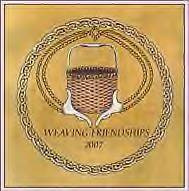 I will not be attending the North Carolina Basketmakers' Association Convention in Durham on March 22-25, but I can arrange for pickup at my home (fairly close to the hotel) during that week.
Thanks for looking! Mary Kuhr