Check out the new North Carolina Basketmakers Association blog that Pamela Zimmerman has set up for the basketry guild. What a wonderful way for the NCBA guild members to keep in touch, don't you think? Thanks for the wonderful NCBA website you maintain and now the blog, also! Way to go girl!
Very nice work Pam, seems like both you and I like the same template! I've been blogging now for almost a year (anniversary July 14), and chose that template right away. Like minds…..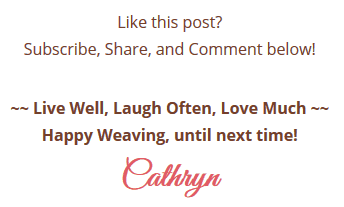 LIKE THIS POST? Subscribe to get updates!
Get access to all the weaving goodies!
Get on the Wicker Woman's Weavings list for valuable emails, blog post updates, events, hints & tips for your weaving delight!