We've closed the Weavin' Wicker Woman™ blog down at Blogger.com, since we now have everything migrated here to WickerWoman.com/blog, but we're having some technical difficulties regarding the pictures on the LinkWithin plug-in at the bottom of each post.
Some of them are still linked to the old blog, so sometimes you will get an error message and be taken back to the old blog.
So, until we get all this straightened out, if you get the error message from Blogger.com that the post is no longer there, just use your "back" button to return here.
Thanks! Sorry for the inconvenience this is causing.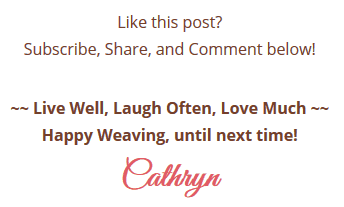 LIKE THIS POST? Subscribe to get updates!
Get access to all the weaving goodies!
Get on the Wicker Woman's Weavings list for valuable emails, blog post updates, events, hints & tips for your weaving delight!