Sorry, but there's another little hiccup that we still don't have worked out yet regarding the new blog.
For some reason occasionally when you click on a LinkWithin photo, you will be taken to the post on the What's New page, away from the blog page.
If his happens, and you want to return to the blog, just use the left sidebar navigation to select the blog page, or use your "back" button again.
My technical adviser is working on this issue and hopefully we'll have it fixed in no time!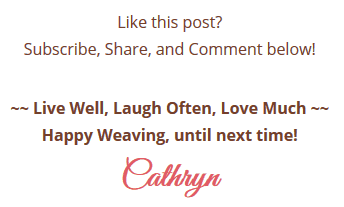 LIKE THIS POST? Subscribe to get updates!
Get access to all the weaving goodies!
Get on the Wicker Woman's Weavings list for valuable emails, blog post updates, events, hints & tips for your weaving delight!