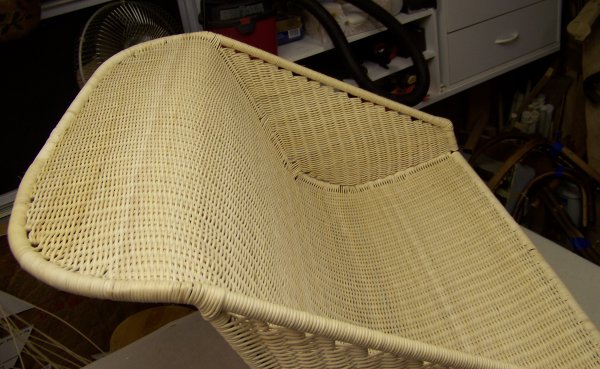 As you've undoubtedly noticed, I changed the name of my blog a while back, from Wicker Woman's Blog to Weavin' Wicker Woman, which I think is a better name for it.
Then too, I've been experimenting around with the background image. And have just what I've been looking for in the woven wicker image that I incorporated into the header this morning.
I took the image from a wicker restoration project done by Richard Hall in Georgia. Earlier this year he was commissioned to reweave two seats and a settee from an antique airplane. Turns out that all three had to be completely rewoven from scratch, but Richard managed to pull it off in great stride.
And although he kept telling me he had no experience in wicker restoration, and preferred doing chair caning and other types of seatweaving, he did a perfect job on this wicker project!
You can see all of Richard's photos which are posted to the Seatweaving, Chair Caning and Wicker Repair Forum album on PictureTrail.com by clicking on this link.
http://www.PictureTrail.com/seatweavingforum
Let me know what you think of the new look–make a comment below. Thanks!