New Basketweaving Book: A Basketmaker's Odyssey…Over, Under, Around & Through. Lyn Syler and Carolyn Kemp, the twosome who wrote The Basket Book and Handmade Baskets (with a combined sales of over 400,000 copies) have a new how-to book on basketmaking. It is perfectly timed to the renewed interest in baskets and basketmaking.
Every page is in full color with expert directions for 24 new baskets. Lyn's detailed directions combined with Carolyn's illustrations and photographs are perfect for the beginner as well as the expert basketmaker.
ISBN 0-9771941-1-6 Book will be available Jan. 2006 Retail Price: $23.95 Shipping & Handling: $4.00 wordweaversink@yahoo.com http://www.wordweaversink.com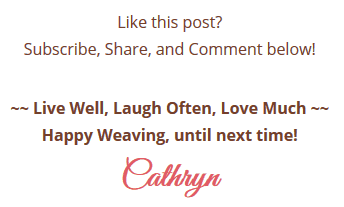 LIKE THIS POST? Subscribe to get updates!
Get access to all the weaving goodies!
Get on the Wicker Woman's Weavings list for valuable emails, blog post updates, events, hints & tips for your weaving delight!