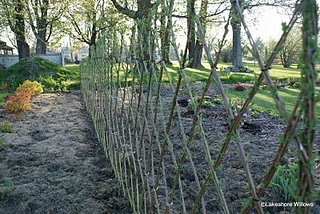 Well, although my friend and fellow blogger, Lene Rasmussen, author of http://salix-willows.blogspot.com/ hasn't been featured yet on the Martha Stewart show, she does have some fantastic live willow fences that she's made on her property in Ontario, Canada.
The photos Lene posted on her blog are wonderful and so very inspiring! She's put a lot of thought and work to establishing these live willow fences and keep the yard and garden looking spectacular.
I've wanted to make some live willow fences up here in Northern Minnesota for years, but with the construction going on, have not found the "perfect place" for them to reside yet. Flanking the long driveway would be wonderful, but quite daunting, too!
When you visit Lene's http://salix-willows.blogspot.com/, be sure to look through the slideshow on the left navigation to see all the other creative things she does with willow. And subscribe to the blog so you will not miss a single new post, you'll be happy you did!