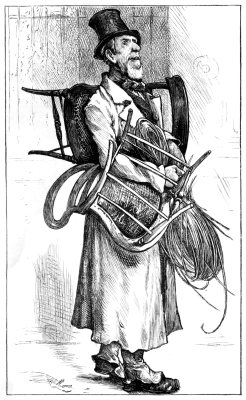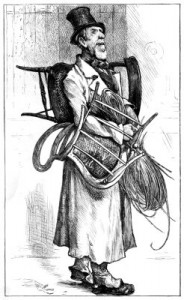 Isn't this old picture from the 1800s of a chair caning man marketing his services, great? Do you, like him, weave chair caning seats, rush seats and/or splint seats; or make any other kind of chair seat weaving repairs for that matter?
Having a hard time with your advertising? Does it cost you way too much through newspapers and magazines? Looking for a cheap, reliable, and effective way of advertising your skills?
Then look no farther than the Furniture Repair Directory-Seatweaving section right here on WickerWoman.com!
We've just made paying for annual ads a whole lot easier, too. Now you can sign up for automatic renewals using the "Subscription" feature of PayPal to make certain you don't forget to renew each year!
In fact, all four sections of the Directory can now pay by "Subscription," including all you Wicker Repair, Furniture Refinishing, and Upholstery advertisers, too! Take a look, and if you're not already listed on one of the sections of the Furniture Repair Directory, be sure and SIGN UP TODAY using the Advertise page!
Let the world know about your exceptional restoration abilities and that you are helping customers to preserve, renew, reuse and recycle their precious antiques, collectibles and even new furniture!