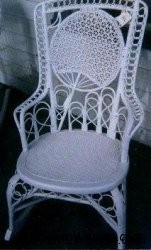 Well, we've almost completed migrating the entire Weavin' Wicker Woman blog from Blogger.com to my domain site here on WickerWoman.com, and will once again take up the weekly if not daily routine of regular posting.
Still having "issues" with some of the widgets and other design elements, but will be up and running again real soon just the way I want it.
Thanks for sticking with me during this transition and stay tuned for much more about chair caning, wicker repair, antiques, and a bit of personal "stuff" too.
I've been blogging now since 2004 and have shared a ton of information with my viewers during those years. I will be continuing to provide the great information with loads of pictures to accompany the posts.
Happy Weaving and Collecting!