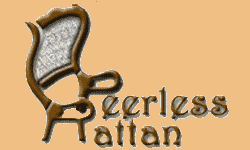 Peerless Rattan Company is located in Plainwell, Michigan. Peerless Rattan has been providing seat weaving and basket weaving materials since 1903.
They carry a wide variety of raw materials, patterns, instruction books, and tools for both basket weaving as well as chair caning enthusiasts.
Owners Ed and Cindy Hammond are seatweavers themselves, so can help you with any type of chair caning materials you may need for your DIY or business project.
They know how important it is to have quality weaving materials and carry a variety of cane webbing patterns and designs, all sizes of strand cane, spline, flat paper splint, round and flat reed and lots more.
Ed has written small beginner instruction booklets on chair caning, spline cane, splint and rush weaving.  And on the website, they feature short instruction slideshows on some of the most popular weaving techniques.
You can find some hard-to-find tools and materials to use on those projects such as English "metal weaving steamers" and "straw wrapped rush," too!
When you visit Peerless Rattan Company's website or Friend them on Facebook, be sure to say you saw and heard about them on WickerWoman.com, thanks!