Steps to begin weaving paper rush seat
We've had some lively discussions over the years on the SeatWeaving & Chair Caning Forum–The Chair Caner's Community Hub™ with several members sharing and giving a paper rush seat weaving tip.
The latest paper rush seat weaving tips thread from March 2013, deals with various methods of starting the gusset strands or short filler strands on a trapezoidal (wider in the front than in the back) chair seat.
After you've measured the front and back rails to decide how many strands you need in the front gussets or pockets to "square up" the seat, then the next step is to decide how to attach the strands to the rails.
In the past, the usual method to attach the strands to the rails was to nail or tack each individual strand to the inside left and right rails, both at the beginning and ending of the strands.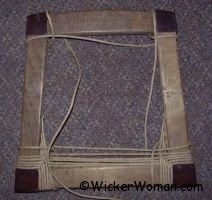 This results in damage to the wooden rails, especially if the seat has been replaced several times. The more replacement seats, the more nails or tacks are pounded into the rails.
Many times during my 35+ years in the chair seat weaving profession, I've run across a simple, better method. With this method, you fold each strand in half and attach the rush at the fold, to the rail with only one tack or nail.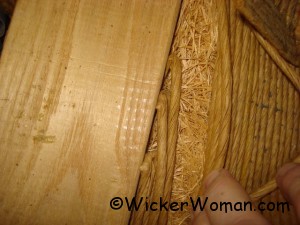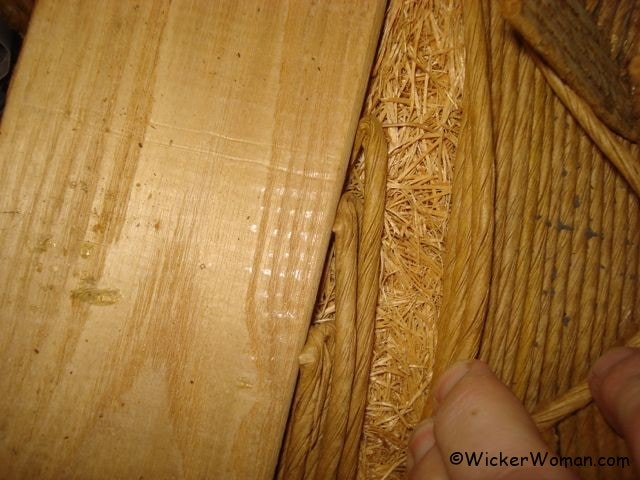 Of course, even with this doubling up method, you still have to end each strand on the right side rail with an individual upholstery tack
. So even this way is not preventing nail holes, only reducing the quantity of them.
I've practiced this paper rush seat weaving tip for many years, but then when zip ties or cable ties
became so popular, I switched techniques again.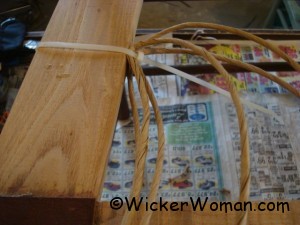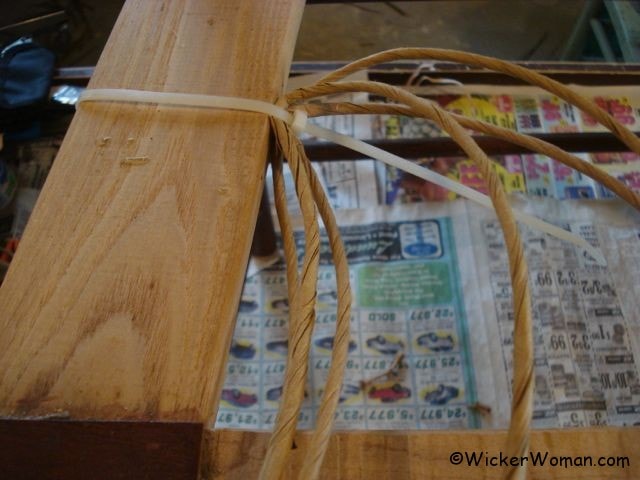 Using cable ties or zip ties when you attach the gusset strands or short rows to "square up" your trapezoidal rush seats, results in no nail holes at all. Isn't that wonderful?
Then on the right side where you end the strands, just use a cable tie again or use a spring clamp to hold in place.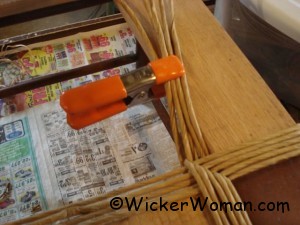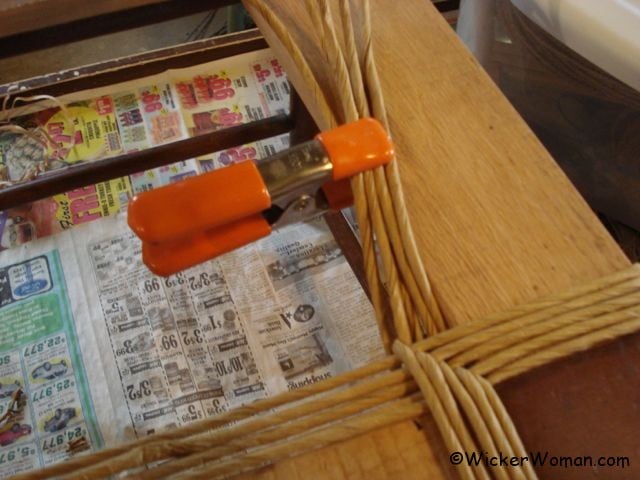 Then eventually, after the other rows of weaving are holding in all the beginning and ending strands, you can remove the cable ties and the spring clamps. Friction will keep all the strands in place and they won't pull out.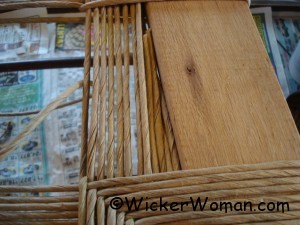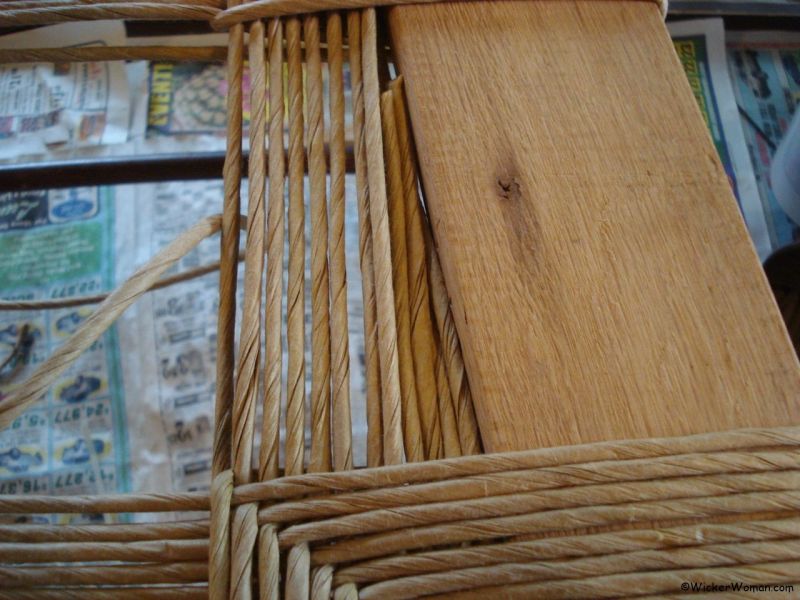 If you'd like, you can leave the cable tie at the beginning on as I've done in the photo below, or you can snip it off after the other weaving is holding those strands in place.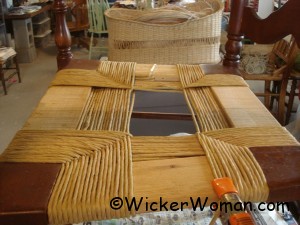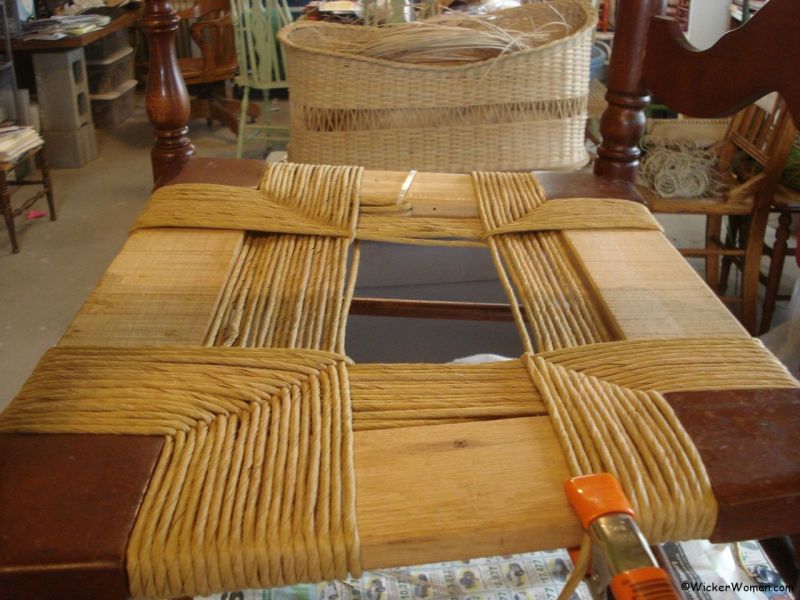 Well, hope you find this paper rush seat weaving tip helpful and will use it to speed up and improve your seat weaving skills.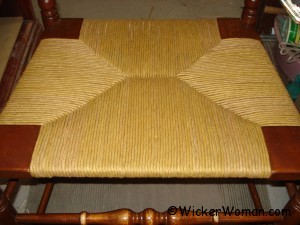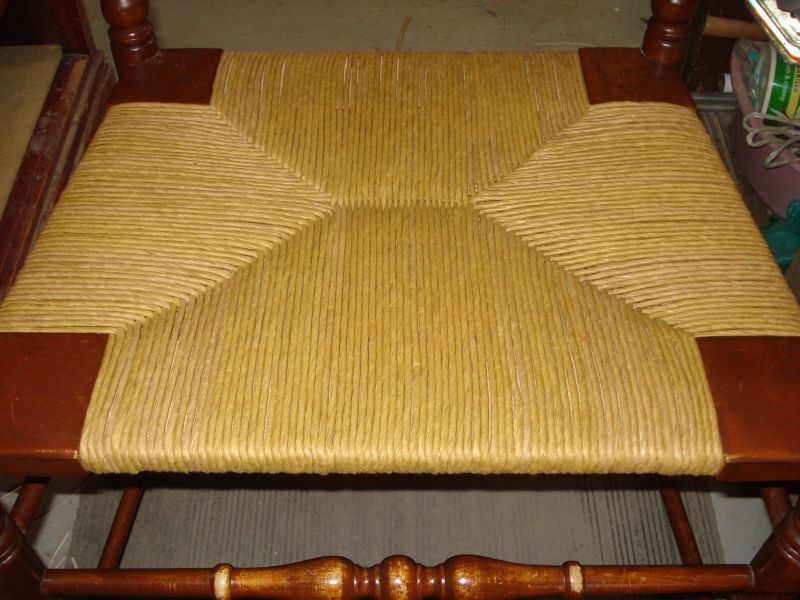 And be sure to join all the discussion on this topic and more on the Free Seatweaving & Chair Caning Forum–The Chair Caner's Community Hub™.
Until next time…