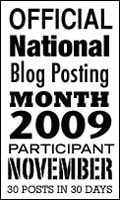 Did you know that November is National Blog Posting Month? No? Neither did I until I saw it on other blogs this morning, and I've been blogging now since 2004.
So, I signed up and accepted the challenge to make one post a day during the month of November!  If you add your blog name to the blog roll on the NaBloPoMo site, then you have a chance of winning prizes, too!
But since I have two blogs, this one here on WickerWoman.com and another chair caning, basketmaking, wicker blog on Blogger.com called, Weavin' Wicker Woman, I decided to make that one the "every day blog posting" blog. Committing to posting on a blog every day for 30-days is one thing, but doing it on two blogs is entirely something else!
Whew! I don't think I could keep up making blog posts every day on TWO blogs without just blabbering away about everyday random thoughts that pop into my head each day. How interesting would that be to my loyal blog followers?
Can you too, accept the November is National Blog Posting Month challenge and be committed to detail blogging every day for 30-days, or die trying?