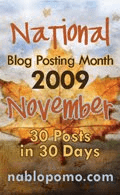 Had it not been for me reading the blogs of my good friends at Basket Master's Weavings and A Hand-Woven Life this morning, I would never have known that November is National Blog Posting Month!
And to think, I've been blogging since 2004 and never heard of this holiday/celebration/challenge! There's actually a website that you can go to and sign up.
Anyway, I thought it sounded like a great idea, to commit to making a post every day in the month of November! So I signed up and made the commitment, we'll see how it goes!
Take the challenge and sign up yourself at National Blog Posting Month and add your blog's name to the blogroll and you may win a prize!  http://www.nablopomo.com