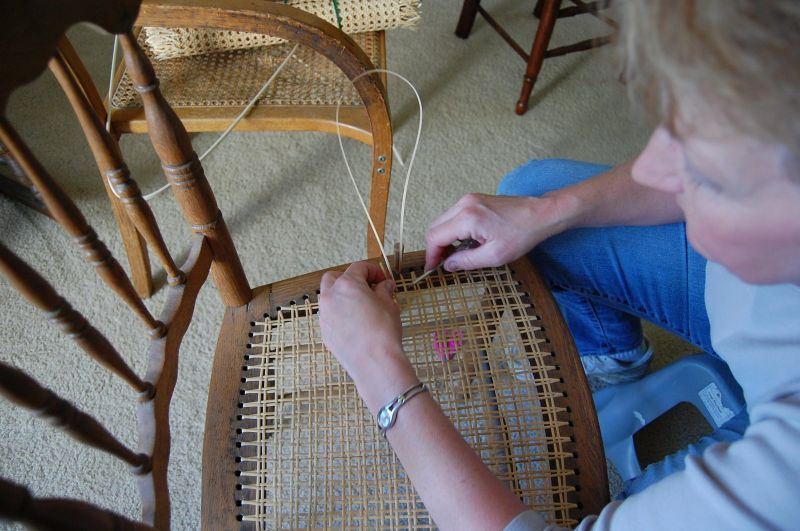 This morning I ran across another interesting blog, John Gladden, a Freelance Writer and his post about a part-time chair caning business in Sullivan Township, Ohio called "Her, A Caner."
Becky Tomko is the owner and chair caning maven that John had written an article about in The Medina Gazzette a week or so ago. The post on his blog was a reprint of that article, and had a few more pictures than appeared in the newspaper article.
Congratulations Becky for making the news about your chair caning business! So nice to hear that there are more people taking up this nearly lost art of chair caning, so the craft will continue for generations to come!
And thanks to freelance writer John Gladden and The Medina Gazzette for writing about chair caning and promoting it to the nation and the world! http://johngladden.blogspot.com/2009/06/her-caner.html
Becky, John and everyone! Here's an invitation to join our chair caning guild, The SeatWeavers' Guild and attend the 2nd Annual Gathering in Nelsonville, Ohio on the grounds of Hocking College at Robbins Crossing on July 31 – August 2, 2009.
All membership forms, Gathering registration forms and more can be found at our website, http://www.SeatWeaversGuild.org and visit the Seatweaving, Chair Caning & Wicker Repair Forum, too for great conversation, help and tips on chair caning at http://yourwebapps.com/Indices/220033.html