FREE ARTICLE–Gathering, processing and weaving chair seats and baskets using cattail leaves!
Ever wonder what could be done with all those cattails you see in the road ditches, marshes, ponds and even in your back 40? With a minimum of labor and free for the taking, cattail leaves are the perfect material for basket weaving projects and chair caning or seatweaving.
Learn all about how to harvest them, process them for use in weaving the seats of your favorite old antique chairs or flea market finds, and then actually weave projects with using the lowly cattail leaf!
WickerWoman.com/gatheringcattails.html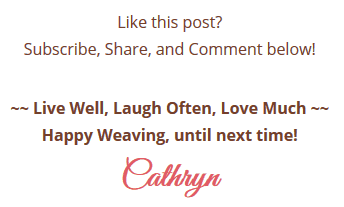 LIKE THIS POST? Subscribe to get updates!
Get access to all the weaving goodies!
Get on the Wicker Woman's Weavings list for valuable emails, blog post updates, events, hints & tips for your weaving delight!