Antler basketweaver Cathryn Peters from Angora, MN was selected to exhibit one of her deer antler basket sculptures at the 18th Annual Juried Art Exhibition at the MacRostie Art Center Gallery in Grand Rapids, Minnesota.
Cathryn's piece joins 29 other talented artisans from Minnesota, Wisconsin, Iowa, North Dakota and South Dakota in the exhibition that runs through August 2010.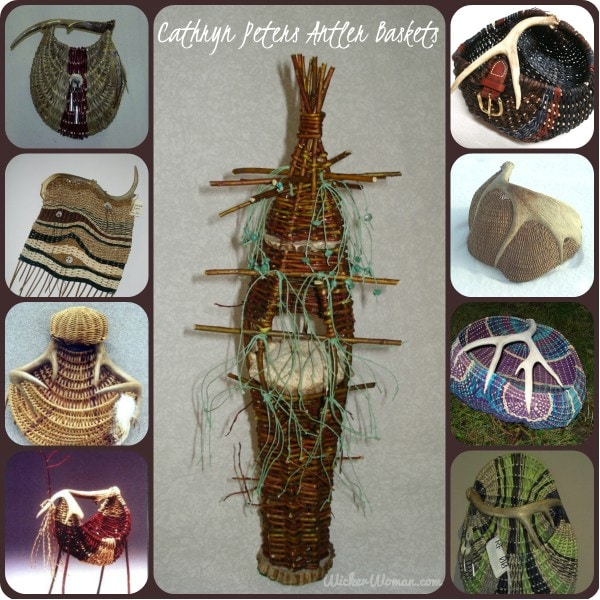 Cathryn has been weaving her signature antler baskets sculptures since 1990 and is delighted her antler basket was chosen for this exhibit. Her antler basket artistry graces homes and has been featured in publications, art shows, and galleries throughout the country.
This 18th annual juried art exhibit at the MacRostie Art Center takes place the entire month of August with an Opening Reception from 5-7 pm on Friday, August 6, 2010.
Juror Daryn Lowman, art instructor at Hibbing Community College selected 35 works of art from 30 artists representing a wide variety of two-or three-dimensional media. Artists from the region and surrounding states were invited to submit work samples of up to two pieces in each of the two categories.
Juror Daryn Lowman will also be exhibiting his own ceramic work entitled, "Flux" in the Minnesota Gallery at MacRostie. Lowman says of his ceramic work, "As a ceramic term the word flux means to melt or make fluid. The intention for this show is to bring together works that display the transitions of flux as a material and as a connection to daily life."
For more information about this exhibition, contact the MacRostie Art Center, 405 NW 1st Ave. Grand Rapids, MN 55744 or call (218) 326-2697 or visit on the web at MacRostieArtCenter.org