Proudly American Made by Minnesota Basketmaker Cathryn Peters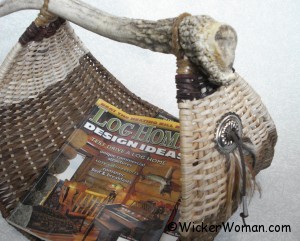 Since 1990, Cathryn's signature baskets have been her original design, one-of-a-kind (OOAK), handwoven rib-style antler baskets, antler basket sculptures and antler wall artistry.
A variety of naturally shed and harvested deer, moose, reindeer and elk antlers are used in her antler baskets and become the either the handle or focal point of all of her creations. Each antler tells a tale and "speaks" to her, suggesting the form it wants to take.
Cathryn respectfully hand-gathers natural, sustainable materials such as cattail leaves, sweetgrass, birch bark, wild willow, diamond willow, willow bark, lichen, moss, pine cones, tamarack branches and cones and red osier dogwood from her Northern Minnesota homestead and incorporates them into her baskets along with commercially processed imported rattan reed.
And if you'd like to place an order for a custom designed antler basket to fit your home or office, just visit the Antler Basket Commissions page for great ideas and ordering information.
Questions about your antler basket order? Use the drop-down menu on Contact Us!
---
"Enveloped" Antler Basket Sculpture

 

18″H x 20″W x 14″D
One-of-a-Kind           Quantity–1

Harvested red deer antler spike, natural and smoked rattan reed, birch bark, wild willow, red dogwood, Oriental seagrass and beads.

AVAILABLE: NORTHWOODS FRIENDS OF THE ARTS GALLERY, COOK, MN
---
"Aubergine Funk"
Antler Melon Basket
10″H x 13″W x 10″D

 

One-of-a-Kind           Quantity–1

Harvested whitetail deer antler, natural and aubergine/purple/dark mauve color dyed rattan reed, white feather embellishments and bead.

NO LONGER AVAILABLE: SOLD

 

 

 
---
"Autumn Encounter"
Antler Basket Sculpture
12″H x 18″W x 13″D

 

One-of-a-Kind                Quantity–1

Two harvested whitetail deer antlers, dyed rattan reed in muted colors of orange, rust, brown and hunter green, Asian cock feathers, silver beads.

NO LONGER AVAILABLE: SOLD

 

 

 
---
For more examples of Cathryn's work, see her PictureTrail.com photo gallery and her artist page on Minnesota Artists Organization.
Want to weave your own antler baskets? Are you a DIY type basketweaver up for a challenge? Purchase Cathryn's antler basket patterns for the help you need to start creating! Or do you want/need antler basket instruction? Take one of Cathryn's Classes or schedule individual one-on-one private class.
We're delighted you stopped for a visit on the antler basket page of WickerWoman.com ! Come back again soon to see the variety of new antler basket art sculptures woven by Minnesota antler basketmaker, Cathryn Peters .