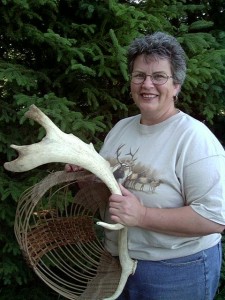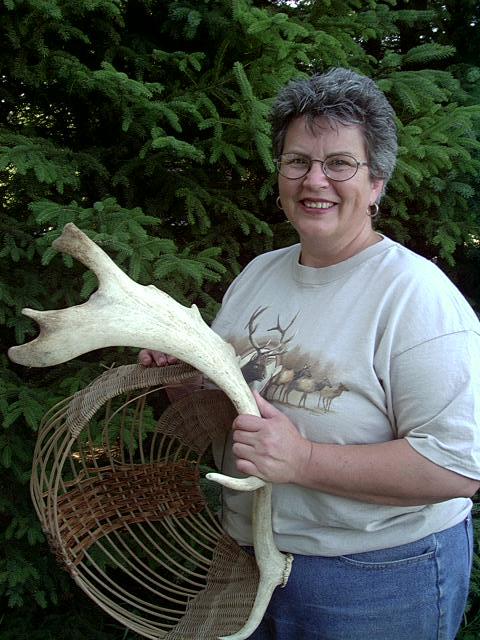 Cathryn Peters is a basketmaker who creates woven basket sculptures using antlers as the focal point or handle.
She uses antlers in conjunction with commercial rattan reed, willow, and other natural materials to weave her creations.
The natural materials are hand-selected and gathered from her rural surroundings to produce contemporary, rustic, functional, and sculptural vessels and wall art.
Professional and Artistic Community Experience
First President of The SeatWeavers' Guild 2007-2008
Full time studio artist, teacher and sole-proprietor owner of THE WICKER WOMAN, a wicker furniture restoration, chair caning and antler basketry studio 1975-Present
Created four wicker airplane seats installed in a replica Sikorsky S-38 amphibian airplane for the Johnson Wax Company, through Born Again Restorations of Owatonna, MN and for Buzz Kaplan, owner of Born Again Restorations of Owatonna, MN 1997, 1998
Restored fifteen antique wicker furniture pieces of the main lodge and cabins for Itasca Minnesota State Park Centennial Restoration Project, 1995
Secretary and Publicity Chairperson for Southeastern Minnesota Visual Artists (SEMVA), Rochester, MN 1989-93
Hammond, MN Mayor 1993-1994 and City Clerk 1989-1992
TEACHING EXPERIENCES
Oklahoma Basket Weavers Guild, Shawnee, OK 2013
Marc Adams School of Woodworking, Franklin, IN 2011, 2013
Northwoods Friends of the Arts, Cook, MN 2013, 2014, 2015, 2016
Community Education Adult instructor in basketweaving, Tower, MN 2006, 2007
North House Folk School, Grand Marais, MN 1999 -Present
John C. Campbell Folk School, Brasstown, NC 2001
Headwaters Basketry Workshop, Bemidji, MN 1998-2003, 2005-Present
Silver Dollar City Basketry Seminar, Branson, MO 1999-2002, 2008
Community Education Adult instructor seat weaving and basketry,
Cook, MN and Cherry, MN 2003
Fall Basketweaving Workshop, Shawno, WI 2000, 2013
Lake Country Basket Fest, Pewaukee, WI 2000, 2001, 2002
Winter Weave, Mentor, OH 2000
Weavin' In Winona, Winona, MN 1998-2002
Southern Minnesota Basketry Workshop, Faribault, MN 1992
Community Education Adult instructor in seat weaving and basketry, and folk art teacher, Rochester, MN public school system 1986-92
GRANTS/SCHOLARSHIPS/AWARDS/PROMOTIONAL FEATURES
3-D First Place & Monetary Award, 23rd Annual Juried Show, MacRostie Art Center, Grand Rapids, MN
Antler Basket Logo, Headwaters Basketweavers Workshop, Bemidji, MN 2008
Emerging Artist Fellowship, Arrowhead Regional Arts Council/McKnight Foundation 2005
Career Development Grant, Arrowhead Regional Arts Council, McKnight Foundation 2004
Antler Basket Logo, Silver Dollar City Basket Seminar, Branson, MO 2002
Antler Basket Logo, Lake Country Basket Fest, Pewaukee, WI 2001
Minnesota State Folk Art Apprenticeship Grant–Seat Weaving Mentor 2000
Minnesota Crafts Festival, Antler Basket Photos on Advertising Materials, St. Paul, MN 1991
Honorable Mention, 14th Annual Textiles & Fibers, University of Wisconsin, Whitewater 1990
Scholarship, Split Rock Arts Program, University of Minnesota, Duluth, John McGuire Shaker basketry 1990
SELECTED SOLO, JURIED, AND INVITATIONAL EXHIBITIONS (partial listing)
All From One Tree, Invitational and Traveling Exhibition, North House Folk School, Grand Marais, MN 2007
Out of the Swamp, Invitational, North House Folk School, Grand Marais, MN 2007
From Swamp and Bog, Invitational, MacRostie Art Center, Grand Rapids, MN 2006
Antlers and Landscapes, Two-person invitational, MacRostie Art Center, Grand Rapids, MN 2004
Baskets 2002: New Perspectives on an Ancient Tradition, Juried, Guilford Handcraft Center, Guilford, CT 2002
Exploring the Future, Revisiting the Past, Celebration of American Basketry, Juried International, Amana, Iowa 2001
Southeastern Minnesota Regional Art Exhibition, Juried, Rochester, MN 2001
Contemporary Basketry, Invitational, Houston Center for Contemporary Crafts, Houston, TX 2001
Association of Michigan Basketmakers Convention, Invitational Members Exhibit, Grand Rapids, MI 2001
57th Juried Exhibition, Upper Midwest, Sioux City Art Center, Sioux City, Iowa 2000
A Basket Is, National Invitational Exhibition, Plymouth Art Foundation, Plymouth, WI 1997
Basketmaking: Past and Present, Juried Group Traveling Exhibit, Iowa Basket Weavers Guild 1992
Quilts and Baskets,Juried, Katie Gingrass Gallery, Milwaukee, WI 1992
Exploration: MN Deer Antler Basketry, Solo, Lutheran Brotherhood, Minneapolis, 1992
Small Expressions '91,Juried International Exhibition, Handweavers Guild of America, Eugene, OR 1991
ARTIST OR WORK FEATURED IN SELECTED PUBLICATIONS (partial listing)
Wicker Woman of Angora, Northern Tracks & Trails Cover Story, Herald-Review, Grand Rapids, MN 2003
Kovel's Yellow Pages, Antique Restoration Guide, by Ralph and Terry Kovel, 2003
Kovel's Yellow Pages, Antique Restoration Guide, by Ralph and Terry Kovel, 2000
Small Town Minnesota from A to Z, by Tony Anderson, 2000
Splint Woven Basketry, by Robin Taylor Daugherty 1999
Kovel's Guide to Buying, Selling, and Fixing Your Antiques and Collectibles, by Ralph and Terry Kovel 1995
Hammond Mayor Weaves a Lot of Things Into Her Life, Post-Bulletin, Rochester, MN, 1994
Selected Publications-Authored and Submitted Writings (partial listing)
WickerWoman.com, webmaster and design artist of domain website 1999-Present
Wicker Woman's Weavings, online monthly wicker furniture, seatweaving and basketry ezine, 1999-Present
English Arts & Crafts Furniture, by Nancy Hiller, 2017
Homemade Money-Starting Smart!, (author solicited contributions), by Barbara Brabec, 2003
Homemade Money-Bringing in the Bucks!, (author solicited contributions, by Barbara Brabec, 2003
6 Steps for Free Publicity, (author solicited contributions), by Marcia Yudkin, 2003
101 Best Home-Based Businesses for Women, (author solicited contributions), by Priscilla Y. Huff, 2002
Handmade for Profit!, (author solicited contributions), by Barbara Brabec, 2002
The ABCs of Wicker Furniture, Finishing & Restoration Magazine, October 2002
Insight on Basketry, by Cathryn Peters, The Crafts Report, August, 2001
Pricing Guidelines for Arts & Crafts, (entire chapter, author solicited contribution), by Sylvia Landman, 2000
Art Group Paints a Rosy Picture,by Cathryn Peters, The Crafts Report, 1996
Antique Wicker Furniture Columnist, Cathryn Peters, The Old Times, 1993-94
Document Your Artwork, by Cathryn Peters, The Crafts Report, June 1992
Wicker Furniture & Basketry, by Cathryn Peters, Basketry Round Up #2, LaPlantz Press 1992
Opening Night Jitters,by Cathryn Peters, Basketmaker, MKS Publishers Issue #27, 1991