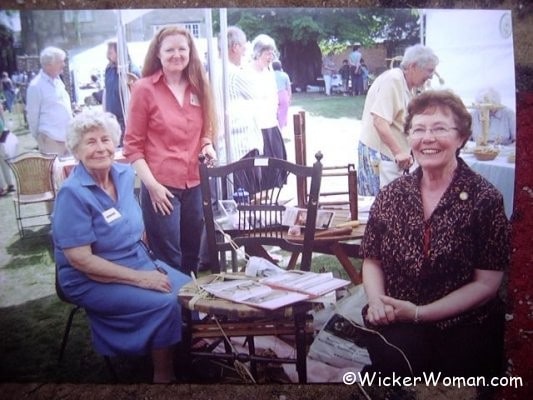 I had the distinct pleasure of attending the Basket Day festival and the summer meeting of the Basketmaker's Association on Saturday, June 24, 2006 in Oxford as part of my McKnight/ARAC fellowship grant travels in England.
I took five rolls of film and have had them developed, but my scanner is not working properly right now, so if you click on the link to the Museum, you will see what I was participating in.
This picture is of three chair seaters that are members of the Basketmaker's Association. They were demonstrating chair caning and bulrush seatweaving.
Barbara Wheeler is the one standing, but I'm not sure of the names of the other two ladies, sorry.
Be sure to check out the wonderful basketry exhibition that's going on now in the Museum, "Oxforshire Baskets–Then and Now" for traditional and contemporary basketmaking.
There's also a brochure that you can print out which shows many of the baskets that were in the exhibition and on the grounds.
The HUGE willow garden basket and willow man were especially intriguing to me.