JUNE 1-3, 2007
If you are in Oklahoma City or plan to be in the area early next month, don't miss the 21st Annual Red Earth Native American Cultural celebration and parade!
The 21st Annual Red Earth Native American Cultural opens at the Cox Convention Center Friday June 1, 2007 in downtown Oklahoma City, OK, where more than 1200 American Indian artists and dancers from throughout North America will gather to celebrate the richness and diversity of their heritage with the world. For three exciting days Oklahoma City will be at the center of Native American art and culture in America. Read more about this fantastic celebration in the Native American Times <expired link> online newspaper.
Hundreds of dancers, in full tribal regalia, will participate in the AT&T Red Earth Festival Parade scheduled Friday, June 1 at 10:30 am in downtown Oklahoma City. The streets of downtown Oklahoma City will vibrate in Native American tribal spirit as representatives of more than 100 tribes, in full tribal regalia, make the AT&T Red Earth Parade one of America's most unique.
Several basketmakers from the ONAB and Oklahoma Basketmakers Guild will be demonstrating their traditional as well as contemporary basketweaving skills. Get more details by visiting the ONAB site and reading the newsletter, Renewing Traditions Spring/Summer 2007 issue. Oklahoma Native American Basketmakers (ONAB) website.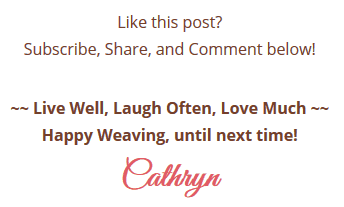 LIKE THIS POST? Subscribe to get updates!
Get access to all the weaving goodies!
Get on the Wicker Woman's Weavings list for valuable emails, blog post updates, events, hints & tips for your weaving delight!