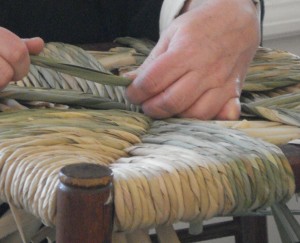 The Wicker Woman ® is a home-based, sole-proprietor business located on the Iron Range in northern Minnesota, near  CookMN.com .
Specializing in antler basketmaking , chair caning , wicker furniture repair , basket and seatweaving instructor and  fee-based wicker furniture consultation.
**NEW EMAIL AND PHONE CONSULTATION SERVICE** –I receive hundreds of emails a day, most of which are asking for help and advice. Due to the tremendous volume of messages, personal replies simply aren't possible in most cases. I do my best to answer questions throughout the site and on my blog, so check ALL the navigation links at the top and bottom of each page.
Please note *The Wicker Woman DOES NOT GIVE APPRAISALS, or SELL MATERIALS to the general public, but does give PAID ONLY consultations on topics about WICKER FURNITURE  and CHAIR SEAT WEAVING  at the rate of $50 per one-topic email or phone consult.
Please select the REASON FOR YOUR CONTACT from the drop-down menu below.
ABSOLUTELY NO Phone or Email Consultations without prior payment!
cforms contact form by delicious:days
The Wicker Woman® – Cathryn Peters
1250 Highway 25
Angora, MN, USA 55703
1-218-666-6189
Open by Appointment Only
Thanks for visiting WickerWoman.com,
we will respond to your inquiry as soon as possible. Happy Weaving!