You can browse listings below to find Chair Caning Repair Experts, Caning Pros or Seatweaving Pros in Massachusetts near you. If there are no current caners listed, please go back to the National Furniture Repair Directory™ (FRD) homepage where you can search other categories and nearby states for your repair pro.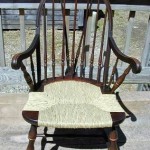 20 Arch Street, Abington, MA 02351 USA
Two shops in one–The Chair Man specializing in antique chair restoration; chair caning, fiber and natural rush, splint, Shaker tape and regluing the joints of chairs. The Tea Lady specializes in antique and vintage porcelain, pottery and glassware.
Over 20+ years of seatweaving experience and service. Pickup and delivery available for local Boston area.
Keeping wonderful (sometimes very old) chairs in use and circulation is our goal. We love the stories of how many chairs have been handed down within families or found on the side of the road.
Visit our website, see our work samples and us at antique shows!
Business Level Member of The SeatWeavers' Guild, Inc.®
(SUB 12/29/22)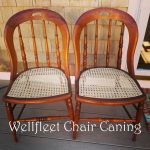 175 Newcomb Hill Road, Wellfleet, MA 02667, USA
Wellfleet Chair Caning specializes in Hand and French Caning, Porch Chairs, Splint and Reed, Mid-Century Modern, Shaker Tape, and Danish Cord. I have been involved in seat weaving since 1986, continuing a tradition that began with my great-grandmother in the 1920s. Quality work and reasonable prices are my policies, not mere goals. I serve Cape Cod and the Islands year-round.
Business Level Member of The SeatWeavers' Guild, Inc.®
(SUB-9/30 TC)