Remember to Bookmark This Site! come back often for updates.
Painting Wicker Furniture
© 2008 by Cathryn Peters
At some time or another, you are bound to need the painted finish on your
wicker furniture
retouched or your
wicker repainted
completely.
And if you are a do-it-yourself (DIY) type person, this might be just the project for you to tackle alone. Practice on an inexpensive and easy to replace piece of modern reproduction or new wicker before attempting to work on an antique wicker piece, though. You certainly won't want to damage a valuable antique while in the learning process!
However, if you do not have a proper area to do the painting, necessary skills, or can't take the time, by all means take your valuable antique wicker to an expert instead.
To find help if you choose not to do the prep work and wicker painting yourself, search the Furniture Repair Directory here on WickerWoman.com for someone to make any wicker repairs that might be needed or to strip, prep and repaint the wicker for you.
The following are questions I frequently get asked about painting wicker and my answers to those questions:
Question: WHAT DO I NEED TO DO TO PREP THE WICKER PIECE BEFORE PAINTING?


Answer: Remove all the flaking paint that you can. Get a soft brass or wire brush and scrape off as much as possible. If it's flaking badly, I have also found success using the side of a flat-head screwdriver blade or a house paint scraper tool, but be careful not to damage the wicker strands or weave as you scrape.
Sometimes, if you are sure you are dealing with a rattan reed wicker piece, (rather than the paper wicker) the flaking paint can also be removed at a high-pressure car wash where you spray the piece yourself.
Keep in mind that it's easy to damage the rattan reed with the extremely high pressure and the water may weaken the glue joints. Make sure the piece is completely dry before proceeding further.
Once the wicker piece is thoroughly dry, and you've removed all the paint that you can, lightly sand the rough edges to blend and also rough up the surface for better paint adhesion.
Question: DO I HAVE TO USE PRIMER BEFORE PAINTING?
Answer: Yes, be sure to apply at least two coats of oil-base wood primer (using a natural bristle brush or compressor sprayer) to the bare spots, or the final paint coat will absorb like crazy.The use of a primer is especially important if you are changing the color of the piece from light to dark or vice-versa.
Then after the primer dries, apply two light coats of oil-based paint, using either a compressor sprayer or brush to apply. My preference is to use an indoor/outdoor oil-base semi-gloss house paint, applied by compressor sprayer.
Question: WHAT TYPE OF PAINT DO I USED TO PAINT MY WICKER?
Answer: I recommend using an oil-base indoor/outdoor house paint. It remains flexible, adheres to the wicker readily, and is extremely durable. In years past, I have seen far too many wicker pieces painted with Latex, that begin to flake off only after a few years of application.
However, there are many wicker experts now, that swear by the good results they are experiencing with the new Latex products. Consult a paint expert at a reputable paint store before purchasing your supplies.
Question: HOW DO YOU PAINT WICKER FURNITURE?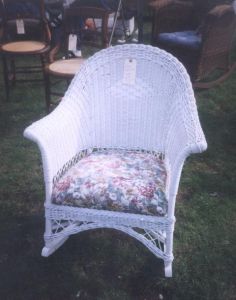 Answer: Always wear protective face mask and safety glasses and use good ventilating methods if painting indoors. Protect surrounding areas and if painting outdoors using a spray method, only spray the paint on a windless day.
The best way to paint wicker in my opinion, is to use a compressor sprayer, using oil-base house paint. If this is not possible, and you only have one piece to do, I recommend using a natural bristle brush to apply the paint, or as a last resort, you can use the spray can method.
Buy the best quality paint available and make sure it's compatible with the existing paint already on the piece, and use a wood primer touching up any bare areas before painting. When you use spray cans, quite a bit of paint is lost in over-spray and can end up being quite expensive in the long run.
So, setting up a home-made spray booth fashioned out of an appliance cardboard boxes helps somewhat if your piece is on the smaller side, whether you use the spray cans or a compressor sprayer.
Be sure to turn the chair upside down and paint all visible areas there first, then tip upright and apply paint to all visible areas, getting into all the crevices and corners. Give at least two light coats of paint and be sure to clean up any spills and drips immediately and don't "glob" on the paint with thick coats.
Let all coats of paint dry before applying the next, and make sure you don't sit in the chair until paint has thoroughly cured for about a week. Enjoy your newly painted wicker furniture!
---
Disclaimer: This article was written by Cathryn Peters based on her own personal experiences and knowledge about the antique wicker furniture industry acquired over the last 34 years of providing wicker restoration services. Viewers may follow these directions using their own best judgment and no liability concerning your results is assumed by The Wicker Woman or Cathryn Peters.
Hope this FREE How-to Paint Wicker Furniture article helped you today. Thanks for supporting WickerWoman.com with your kind donation! And please come back often to see the additions and updates to WickerWoman.com!
---
Articles, Tip Sheets & Reports <– Back
Next –> What is Paper Fibre Rush or Paper Wicker?