You can browse listings below to find a Chair Caning Pros & Seatweaving Experts in Oklahoma near you. If there are no current caners listed, please go back to the National Furniture Repair Directory™ (FRD) homepage where you can search other categories and nearby states for your repair pro.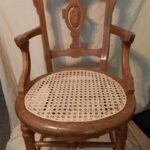 Duncan, Oklahoma 73533, USA
For 30+ years, Karen Scott, owner of H P Basketry and Caning LLC located in Duncan, OK has woven baskets and provided chair caning services in the area and well beyond.
This quality business includes all types of chair seat weaving; hand caning and pressed cane webbing,  Shaker tape and rattan in many patterns.
Wicker repair, basket repair, and minor structural repairs are also included, as is customer advice about the best stains and finishes to use on their heirlooms.
(6/23)