You can browse listings below to find a Chair Caning Pros & Seatweaving Experts in Oklahoma near you. If there are no current chair caning repair experts listed, you will be taken back to the National Furniture Repair Directory™ (FRD) Homepage.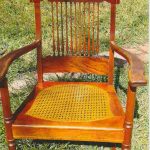 7016 NW 60th St, Bethany, OK, USA
Reddick Family Chair Caning–Was started in 1974 by Imogene Reddick and was one of only a fe...