Our featured Saturday's Cane & Basket Supplier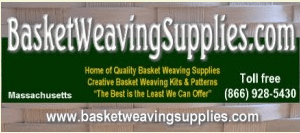 BasketWeavingSupplies.com–(formerly JB-Designs) is located in Shirley, Massachusetts and owned/operated by Jennifer Rhodes.  Jennifer bought the business three years ago from another Jennifer, Jennifer Baum and moved it to its current location.
BWS is a one-stop weaving supply company.  They offer almost 100 basket weaving kits from beginner to advanced weaving levels and over 600 basket weaving patterns from many well-known weavers from all over the country.  In addition they sell superior quality basket weaving reeds, beautiful hard wood bases, red oak D handles, dyed reed and the list goes on and on.
Call BasketWeavingSupplies.com when you are starting your next basketry project and Jennifer will personally help you select all of the items you need to make the project come out great.
Jennifer herself teaches basketry in her studio weekly and has taught for the Northeast BasketWeavers Guild and is heading to North Carolina to teach at the convention there in March.  She is happy to share her knowledge with all of her customers and help them create a beautiful, functional work of art.
Check out their extensive website TODAY! on the Cane and Basket Supplies Directory ™ at WickerWoman.com!