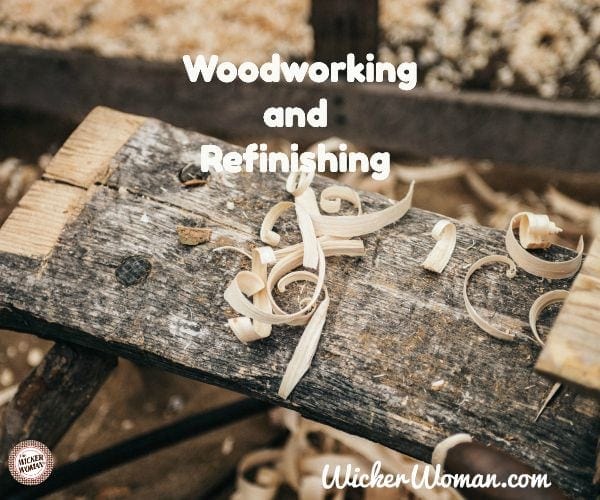 Here are some excellent and handy resource links featuring woodworking schools and furniture restoration sites you might enjoy. Please mention you saw their link here on WickerWoman.com!
 
The Center for Furniture Craftsmanship provides education for people who want to design and build functional, beautiful, and expressive work out of wood to the highest standard of craftsmanship. We offer woodworking courses for people of all skill levels, from absolute novices to advanced amateurs and working professionals. Short-term and long, intensive courses are offered to suit the student.
We at Marc Adams School of Woodworking in Franklin, Indiana offer week-long as well as weekend classes for the woodworking enthusiast. Our facility is filled with tools for your every need, with nationally known instructors offering woodworking courses throughout the year. We gear the classes for the absolute beginner, intermediate to the advanced woodworkers who are looking for greater challenges in honing their skills.
Austin School of Furniture and Design is focused on passing down the traditional craft of woodworking and fostering a creative environment for the next generation of furniture makers. Check out their wide array of woodworking and design classes and workshops given by their team of very talented and experienced instructors.
---
AntiqueRestorers.com is an online community of restorers sharing ideas with each other and providing information and advice about the proper restoration and care of antiques, porcelain, furniture, glass, art, pottery, fine art, and fine art frames.
The mission of the Professional Refinishers Email Groop is to connect professional refinishers all over the world via email and promote the free and open exchange of information on all aspects of the business of repairing, refinishing, and conservation of furniture and architectural items, in a non-commercial, friendly daily forum.
Nancy Hiller is an author and cabinet maker specializing in highly customized design and craftsmanship. She builds and designs late 19th and early 20th Century interiors, custom furniture and cabinetry.
Providing the finest professional-quality furniture restoration supplies and wood finishing materials for all wood and leather furniture care. Free restoration tips, and advice on product selection and application. American Custom Paste Wax, shellac flakes, furniture polish, gilding supplies, and the complete Liberon product line.
Restore that heirloom! Within this website, you'll find all the information necessary to do any restorations yourself. Products, tip sheets, catalogs and more.
The Furniture Fixer. Your complete online resource for furniture restoration supplies and advice to help you with your woodworking and furniture projects, including wood furniture refinishing supplies and tips, and furniture building advice and equipment.
Woodworkers and carpenters are at risk of developing mesothelioma, rare cancer caused by asbestos exposure that can take 20-50 years to develop. Asbestos was used in all types of constructions before 1980, so residential and commercial woodturners were commonly exposed then. However, some woodworkers are still at risk today when they are remodeling older structures.  Here at The Mesothelioma Center, (Asbestos.com), we provide information on asbestos and we work 1-on-1 with individuals to help them find local doctors, treatment centers, and support groups all at no cost. 
The Furniture Repair Directory™ is here on WickerWoman.com where you can locate Furniture Restoration, Refinishing and Repair experts from across the country to repair your prized family heirlooms or flea market finds. There are also three other categories of Upholstery, Seatweaving and Wicker Repair. Find your expert here to repair and restore your furniture.

Thank you so much for visiting the Woodworking Furniture Restoration resource links page of WickerWoman.com!
Please SHARE with your social networks, click the buttons below and on the left sidebar, encourage your friends to visit, too!