Here's a listing of several home-business and small business website links that you're sure to enjoy!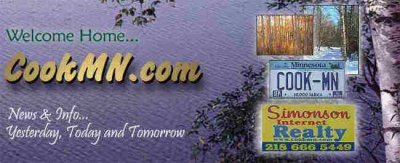 Website about the people in and around the City of Cook, Minnesota, 10 miles northeast of The Wicker Woman® studio in Angora, MN. Cook is the "Gateway to Lake Vermilion" in northeastern Minnesota only 60 miles south of International Falls on the Canadian border.
It's located in the center between Orr, Ely, Virginia and Hibbing. We're about 15 miles south of Orr, 30 miles north of Virginia, MN, 45 northeast of Hibbing and 50 miles west of Ely where there are plenty of great fishing spots, snowmobile trails, hunting galore with beautiful lakes, resorts, and peace of mind!
Barbara Brabec's World
Home-based small business and craft author's site offering help and advice through her many books, articles, examples and newsletter for the self-employed.
Boogie Jack.com
Dennis Gatkills website and newsletter offering help and advice to Internet users, web designers, web masters and the novice alike.
Craftmarketer.com
Starting a craft business made easy with tips for selling crafts. Here's where to find proven craft home business ideas.
Hobby Hen Directory & Marketplace
The ultimate directory of arts & crafts, hobbies, & collectibles. Where shoppers can find Artists and Crafters and Arts and Crafts Products.
Sign Maker Shop Personalized 3-dimensional wood signs for gifts and business. Home of the Arts, Crafts, Hobbies and Handmade items Directory.
Craft Organizations
The SeatWeavers' Guild, Inc.®
The SeatWeavers' Guild, Inc.® is a national chair caning guild started in 2007 to promote and perpetuate the nearly lost art of chair seat weaving and to educate the public about this historic craft.
Artful Home
Artful Home is the leading source of fine art, apparel, contemporary art glass, modern furniture, home accents, handcrafted jewelry and unique gift ideas. Discover over 12,000 works of original artwork, all made by hand and shipped direct from artists' studios.
Alberta Craft Council, Alberta, Canada
The Alberta Craft Council (ACC) is a non-profit provincial member service organization dedicated to supporting the development of Alberta craft and the Alberta craft industry. Since 1980, the Alberta Craft Council has promoted craft in Alberta through Exhibitions, publications, marketing, education and information services to its members and to the general public.
Society of Arts and Crafts
Incorporated in 1897, The Society of Arts and Crafts has been at the forefront of the American craft movement, fostering the development, sales, recognition and education of crafts for over one hundred years.
<--Back To Articles, Tip Sheets, Reports
Next to–> How-to Care for Cane Furniture