Need chair caning supplies and basket making supplies for your next DIY project? How about some rattan reed for wicker furniture repairs? Looking for a Canadian source of cane and basket supplies and materials?
Levair's Canadian Cane and Basket Supply Company
Well then, check with Levair's Woodworking and Caning Supplies, the newest addition to the Cane and Basket Supplies Directory™.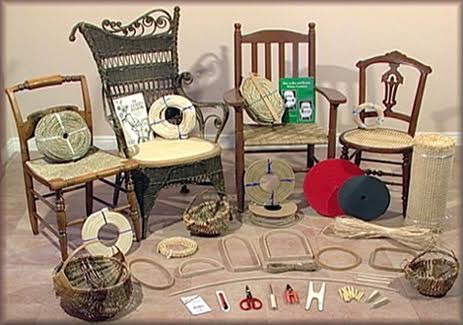 Levair's is located in Ottawa Valley, Barry's Bay, Ontario, Canada and is a full-service mail-
order supply company, shipping all across Canada and the region.
They carry a wide variety of materials, everything needed for seat weaving and basket weaving projects; strand chair cane, paper rush, natural rush, cane webbing, basketry hoops, rattan reed, instruction books and tools.
Chair Caning Repair Pros Near Me?
If you are not able to repair your own woven seats or don't want to DIY them and want to find a chair caning repair pro near you, then check out the National Furniture Repair Directory™ here on WickerWoman.com.
The Furniture Repair Directory™ is listed on the New? Start Here! page, at the top of every page in the navigation bar, in the footer of every page and also on the Homepage.
I started the National Furniture Repair Directory™ in 2004 with the four repair experts categores of Chair Caning, Upholstery, Refinishing and Wicker repair.
Click on the link above, then select the repair expert category you want, and the state you live in, then select your repair pro/expert from the listings. Please be sure to let the repair pro you choose know that you found them through their ad on WickerWoman.com! Thanks!