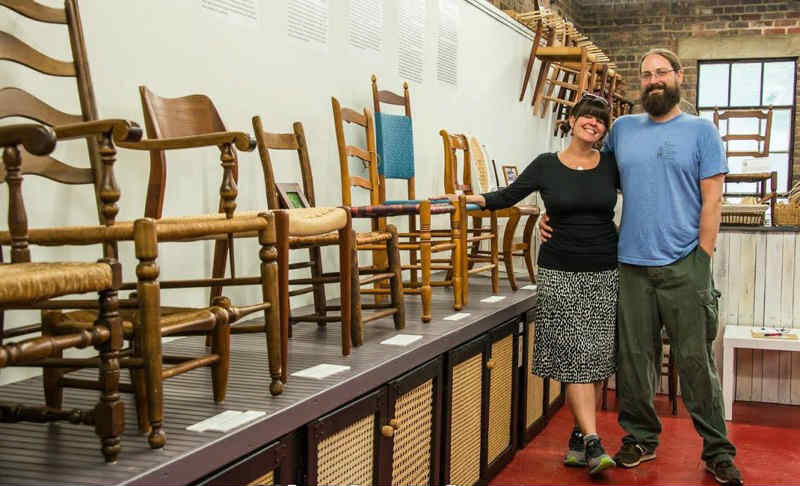 5 River Arts Place, Asheville, NC 28801
6 Riverside Drive
Asheville
North Carolina
28801
US
Silver River Center for Chair Caning is operated by two chair nerds on a mission to cultivate and inspire a reverence for a worldwide chair caning legacy.
Our vision is to promote an enthusiasm for the craft through education, published work, restoration, and travel. Be on the lookout for our instructional manual to be published in 2023! Also, see our article in Mother Earth News (August/September 2021).
We aim to dispel the myth that chair caning is a dying art. We want to empower everyone to learn to restore their own chairs. So we expanded our chair caning restoration business into Silver River Center for Chair Caning, the nation's only chair caning school and museum. We teach small classes at our shop in Asheville as well as regular classes at John C Campbell Folk School, Penland, Arrowmont, and the Island Farm.
Silver River is an official education center of the Southern Highland Craft Guild. Memberships include The SeatWeavers' Guild, The Furniture Society, The American Craft Council, The River Arts District Association, and we are a heritage member of the Southern Highland Craft Guild (Brandy is a 4th Generation Chair Weaver). We are proud to honor a family tradition, the craft, and all chair nerds (past, present, and future) with Silver River Center for Chair Caning.
Visitors to Silver River can–
See daily demonstrations on an incredible variety of chairs with woven seats.
Take classes from beginner to advanced tutorials, volunteer, or apply for apprenticeships.
Take a self-guided tour d' chairs and read about the material, history, and process of 8 styles of chair seat weaving. A permanent collection of historical chairs is on display as well as rotating exhibits including #canespotting and Historic Western North Carolina Chairs.
Enjoy the reference library and educate yourself on ancient and global traditions.
Bring their family heirloom in for restoration by our seat weaving experts
Donate their chair for student practice
Purchase restored chairs for sale
Get advice on their chairs
Quickly become total chair nerds.
NOTE: Due to the "Pandemic Pivot" as well as persistent overuse injuries, we are stepping away from MOST restorations. We still love to weave chairs, we just have to be more selective with what we bring in. Our main goal is education through classes, both in-person in our shop and at craft schools across the country, and online.
We shoot videos for YouTube and we are building an online school for on-demand learning from the comfort of your home. We travel to speak and demonstrate at museums, craft shows, schools, woodworkers associations, etc.
As such, our restoration waitlist is often 6 months-1 year out. Restoration inquiries should be emailed to [email protected] and should include photos of the chair attached to the email. Classes at the moment in 2022, are by appointment only, call or email to schedule.
Corporate & Board Member of The SeatWeavers' Guild, Inc.®
(4/1/NCHG)
Business Owner
Brandy Clements & Dave Klingler
Business Hours
Open by appointment in 2022, Mon-Fri - 11am-4pm
Asheville, North Carolina