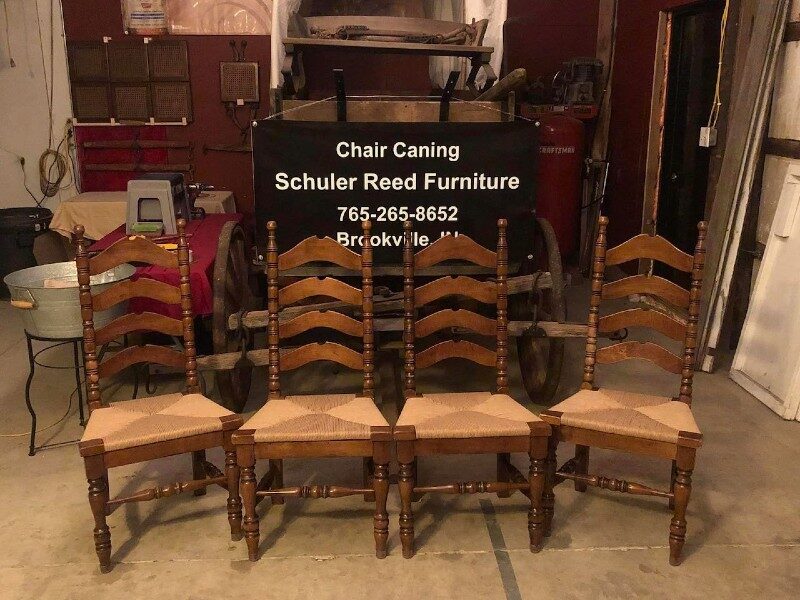 2041 IN-252, Cedar Grove, IN 47016
Schuler Reed Furniture, owned by Morgan Schuler is dedicated to quality repairs on cane furniture. Located just ten miles from Brookville, Indiana, between Cincinnati, OH and Indianapolis, IN, provides seat weaving services to this broad area.
My idea to start caning came from my grandparents who had a shop in Cincinnati called Lewis Reed Furniture, and I want to continue that in my own way the best I can.
I am self-taught with the help of many people from around the world, and I intend to grow my business as large as I can in the coming years.
I specialize in hand cane, pressed cane, fiber rush, flat reed, and binder cane. I have done some light wickerwork and a couple other small repairs, and if I have not done a type of repair before I will typically try to figure it out so I can try to perfect it.
I have had to color-match wood repairs on chairs, and I am able to get those pretty close when necessary but have not taken on any large refinishing jobs. At this time, I am not looking to tackle that challenge.
Before repairing the seat, I always round the edges of the opening and the cane holes to prevent premature failure in the future. I then tighten any loose joints that I am able to, and then after the seat repair I oil the wood to bring it back to life. This is all included in one estimate to make things simple.
The easiest method of getting an estimate is to send pictures through text message to the phone number listed. That estimate is typically very accurate, but in-person estimates may differ a little depending on damage unseen in photos.
When possible, I offer pick-up and delivery within a reasonable distance from my shop.
Thank you, and I look forward to bringing a new life to your cane furniture.
Corporate Member of The SeatWeavers' Guild, Inc.®
(2/1/24)
Business Owner
Morgan Schuler
Business Hours
By Appointment Only