You can find Wicker Repair Experts in North Carolina listed below. If there are no current wicker pros listed, please go back to the National Furniture Repair Directory™ (FRD) homepage where you can search other categories and nearby states for your repair pro.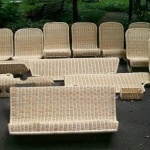 Yadkinville, NC 27055, USA
Anderson's Restorations in Yadkinville, North Carolina with over 35 years in business are chair caning and wicker repair experts with experience in all types of seating – Caning, Splint, Rush, Danish Cord and Shaker Tape.
We do special weaves such as Spider Web, Star and Blind Cane along with patterns like Carolina Close Weave and Adirondack Rustic.
We restore wicker and rattan totally woven furniture, specializing in restoration of the Jolly car seats, along with doing some furniture refinishing.
Visit our website and Facebook business page for details and more pictures, links are posted in our contact area.
Business Member of The SeatWeavers' Guild, Inc.®
Wicker & Seatweaving (10/01/21)