You can browse listings below to find a Chair Caning Pros, Chair Caners & Seatweaving Experts in South Carolina near you. If there are no current caners listed, please go back to the National Furniture Repair Directory™ (FRD) homepage where you can search other categories and nearby states for your repair pro.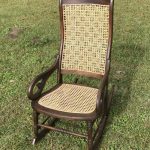 2991 State Hwy 174, Edisto Island, SC 29438, USA
Here at Seats on the Beach, we provide chair caning and other seat weaving services primarily in Charleston, South Carolina and other regional sea island areas.
We offer traditional hand or strand caning, as well as pressed cane webbing, flat reed weaving, and paper fibre rush. Our specialty is weaving round seats and chairs with multiple curvatures, just for the challenge and adventure!
We also offer uncommon and decorative weaving patterns. Call or email today for an appointment and to discuss your chair seat weaving needs! And visit our Facebook page for more photos of our work.
We are a proud Cottage level member of The SeatWeavers' Guild, Inc.®
(12/1/23)