You can browse listings below to find a Chair Caning Repair Expert, Caning Pro or Seatweaving Expert in Illinois near you. If there are no current caners listed, please go back to the National Furniture Repair Directory™ (FRD) homepage where you can search nearby states.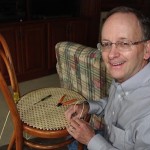 4277 Preston Street, Paris, IL 61944, USA
David W. Dick Chair Caning and Wicker Restoration has performed expert wicker, rattan and cane se...