You can browse listings below to find a Chair Caning Repair Expert in Colorado near you. If there are no current chair caning repair experts listed, please go back to the National Furniture Repair Directory™ (FRD) Homepage where you can search other categories and nearby states.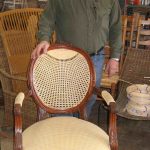 1438 Baylor Drive, Colorado Springs, CO 80909, USA
Rodney's Caning has been providing chair caning and seatweaving since 1972. Our specialties are hole caning, machine caning, splint, Danish cord, wicker, fiber rush, Shaker tape, slab rattan, and almost any other kind of woven seat, including unusual patterns.
We also offer some gluing and minor repair, plus FREE estimates with fair prices. Home shop serving Colorado for over 20 years! Give us a call for jobs big or small!
(1/1/23)