You can browse listings below to find a Chair Caning Repair Expert in Colorado near you. If there are no current listings, please go back to the Furniture Repair Directory™ (FRD) Homepage.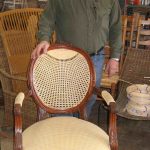 1438 Baylor Drive, Colorado Springs, CO 80909, USA
Rodney's Caning has been providing chair caning and seatweaving since 1972: We do hole cani...