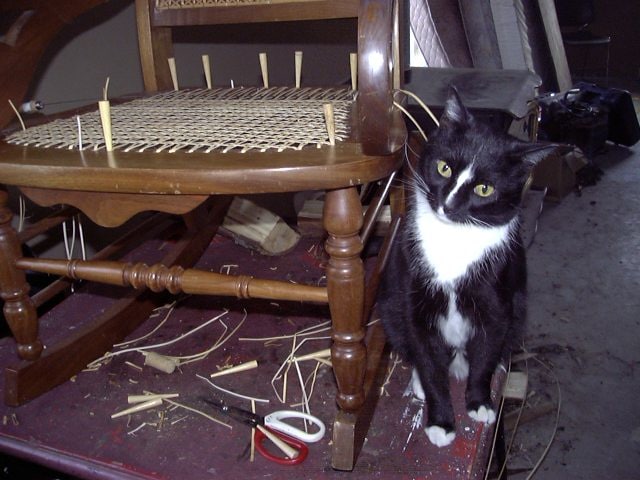 Barbara Brabec, craft author and home-business expert, has been a friend of mine for many years. I've followed her work through all her books (been in several of them, too), and then on her website and newsletter as she was building them. https://www.BarbaraBrabec.com
She put out a request a few months ago in her newsletter that she wanted pictures of everyone's "shop cat" or "office cat," so I sent a few of my squirrely cat, Don Gato.
I've posted here about him before–he loves to hang around on my shoulders and neck as I work in the studio, trying to cane chairs for customers and make antler baskets.
Barbara posted Don Gato's pictures and my paragraph or so detailing him, on her website and it was in the August newsletter, also.
Spend some time on Barbara's website, it's chock full of helpful advice on many topics ranging from how to set up a home-based business, to running computers, and designing websites. http://www.BarbaraBrabec.com
I highly recommend this website–it's a MUST read for anyone that has a small business, home-based business, craft business or is an aspiring author, writer or website designer!