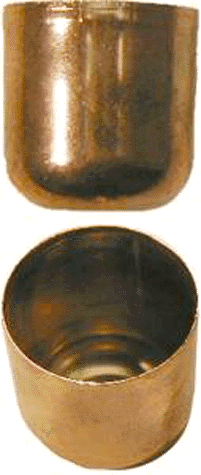 For those of you that have been in the wicker repair business for a while, you know how hard it's been to find replacement parts for those brass toe caps on the bottom of the legs of wicker chairs, tables and what not. But fear no more!
B & E Emporium to the rescue! They are located in Michigan and also are also frequent contributors to the conversations on the Seatweaving, Chair Caning and Wicker Repair Forum, where someone asked where to purchase the brass toe caps.
Owner Craig Phillips has them listed on their website, B & C Emporium <site no longer available> and carries them in their store too. Take a look at the heading Reproduction: Duncan Phyfe Toe Caps–Brass Plated Steel Toe Caps #1200, 1″ high 7/8″ inside diameter.
Thanks Craig for letting us know about your great supply house!