Always improving the site for you the viewer–A new feature on WickerWoman.com is the addition of navigation hotlinks at the bottom of every page on the site!
So not only can you access the various pages from the left sidebar on most pages and the top navigation on some pages, but now if you get lost or confused, you can always resort to finding what you need through the links at the bottom of the page!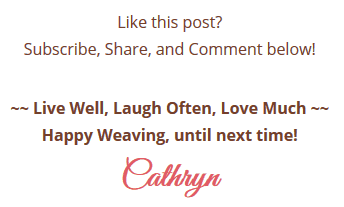 LIKE THIS POST? Subscribe to get updates!
Get access to all the weaving goodies!
Get on the Wicker Woman's Weavings list for valuable emails, blog post updates, events, hints & tips for your weaving delight!