Frustrated attempting to weave your first paper fibre rush chair seat?
Want to learn a great way to hide the ends of the paper fiber strand end joins so you don't have to tie knots?
Then I've got the answer and help for you! Glue them together and then tuck those joins between the cardboard stuffing in the gussets so they are not seen.
Just watch the slideshow on my PictureTrail.com photo album. Enjoy the show!
Paper Rush Seat Weaving by The Wicker Woman–Cathryn Peters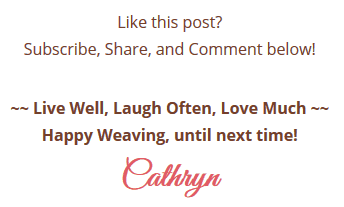 LIKE THIS POST? Subscribe to get updates!
Get access to all the weaving goodies!
Get on the Wicker Woman's Weavings list for valuable emails, blog post updates, events, hints & tips for your weaving delight!