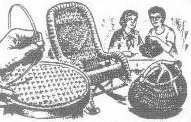 FYI: The logo on WickerWoman.com is clickable! So if you want to go back to the Homepage quickly, just go up to the logo at the top of each age and CLICK! Presto, you've been taken back to the Homepage!
Here on the homepage (as well as most pages on the site) is where you can select from all the navigation tabs on the left side to find all the interesting topics, articles, resource links, etc.
Only four pages on the site have the navigation at the top instead of the left side. But take heart, there's also a Site Map tab there at the top, too. And as you all know, the Site Map lists each page of my website! Enjoy!