If you've been following my old Weavin' Wicker Woman blog on Blogger.com through Google Friend Connect, you no longer have to worry about missing any posts!
We've just finished migrated all the blog posts, pictures and now the Google Friend Connect widget here to the new WordPress platform on WickerWoman.com! Now you don't have to leave the site to read my blog.Same great chair caning, wicker, basketry and fiber arts blog posts and more, just on the new platform.

Will still be making some changes and tweaking here as I alluded to in the last post, but am finally back in the blogging groove!
Already a member of Google Friend Connect and not following this blog yet? Just click on the widget over there in the right sidebar and you'll be all set.
Never miss another blog post either, use the subscription icons at the top right sidebar to get them delivered to your email box or to your favorite RSS Reader.
Bloggin' ON ya'll. .. SEVEN YEARS come July 2011. Wahoo!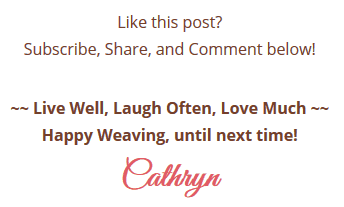 LIKE THIS POST? Subscribe to get updates!
Get access to all the weaving goodies!
Get on the Wicker Woman's Weavings list for valuable emails, blog post updates, events, hints & tips for your weaving delight!