You can find Wicker Repair Experts in Missouri listed below. If there are no current wicker pros listed, please go back to the National Furniture Repair Directory™ (FRD) homepage where you can search other categories and nearby states for your repair pro.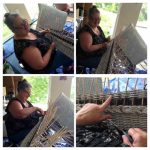 924 Prairie Ridge Road, Ozark, MO 65721, USA
The Wickerfixer and Chair Recaner's owners Cheri and Mike Russell in Ozark, Missouri have ...