You can find Wicker Repair Experts in Georgia listed below. If there are no current wicker pros listed, please go back to the National Furniture Repair Directory™ (FRD) homepage where you can search other categories and nearby states for your repair pro.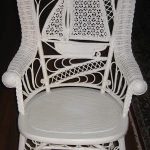 Richard Saunders is a wicker furniture restoration specialist, author of five books on antique wicker furniture, and one of the only certified wicker furniture appraisers in the country.
Richard and his wife Paula, relocated from California to Savannah, Georgia several years ago. Richard has over 45 years of hands-on experience in repairing and restoring wicker furniture and writing about and appraising antique wicker furniture.
One of Richard's books, Collecting and Restoring Wicker Furniture — was the first book published with a how-to chapter on wicker repair. Several other books explain the history of the wicker furniture industry, give general pricing estimates, illustrate the different types of wicker furniture, and show examples of manufacturing methods and company warehouses.
Thinking of selling or throwing out your old wicker furniture? STOP! Don't throw out a potentially valuable and irreplaceable piece of our American wicker history.
Before you toss your wicker–get an appraisal from Richard, first! His appraisals include historical information, notes on style and design, dating the piece, and either proving the manufacturer or giving a likely manufacturer of the piece.
Richard provides certified, fee-based wicker furniture appraisals at $35 per piece. His appraisals can be used to establish the value of your wicker pieces for a variety of purposes:
establish family heirloom/inheritance value
estate resale value
resale value
insurance value
moving damage claims
and even court cases if necessary
Richard Saunders is one of only a few appraisers whose appraisal certification specialty is antique wicker furniture. Certified appraisals are given only after a physical inspection or through a series of good-quality photos sent to him via email or postal mail.
Contact Richard today for an appointment so you will be knowledgeable about your wicker furniture.
Mr. Saunders is also offering BRAND NEW copies of WICKER FURNITURE: A GUIDE TO RESTORING AND COLLECTING (Crown Publishers; 1990), which has been out-of-print for many years.
This is a 245-page, large-format paperback book which includes an 8-page color photo section, hundreds of black and white photos and lots of fascinating information on antique wicker furniture. A perfect addition to anyone's personal or seatweaving business reference library.
This book went out of print several years ago but he has a limited supply of NEW copies which he purchased from the publisher's warehouse. He would be happy to personally sign your copy, just ask. The price of this special book is $30.00, which includes shipping and handling.
Contact Richard today to order your signed book, WICKER FURNITURE: A GUIDE TO RESTORING AND COLLECTING or to get your wicker piece evaluated and appraised for its proper value, or to get your wicker piece repaired! Directions to his shop will be given when your appointment is booked.
Honorary Lifetime Member of The SeatWeavers' Guild, Inc.®
(9/1/23)